Our Publishers Make Between $5,000 – $30,000 Per Month
We've Done All of the Hard Work for You…
You Just Need to Select Ad Offers You Like, Hit Send, and Tell Us Where to Mail Your Checks!
The Darwin Agency and Darwin Investor Network has been helping publishers monetize their email lists through high-paying advertising offers since 2007. We have over 100 active advertisers looking for lists just like yours to market to on either a guaranteed cost per click or cost per lead basis.
This is quite possibly the best way to monetize your list outside of having your own products or services (in fact, many business owners find it to be much more profitable than having their own products and services because there are no fulfillment costs and very little personnel costs).
We have Channel Partners making $10k, $30k, even $50k per month simply by incorporating our advertising technology to their normal business activities.
Below are three, short videos that explain the three different ways you can use Darwin Investor Network to add significant advertising revenue to your business model.
Please watch the short videos below.  If you like what you see, we would love to set up a quick intro call with your team and demo how simple it is to get started!
Demo Video 1: Make Money Sending Dedicated Emails!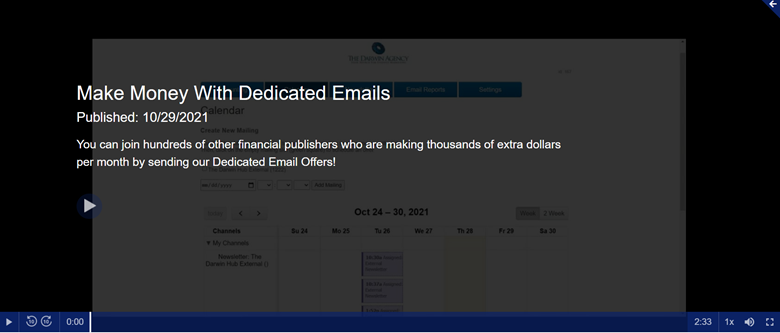 Demo Video 2: Make Money by Adding Space Ads and Text Links To Your Investing Newsletters
Demo Video 3: Improve Email Deliverability, Grow Your Engaged List Size and Make Money With "Done For You Newsletters"